They say, you must walk a mile in your customers' shoes to truly know your product.
Fair enough.
You need to understand what they experience — right from the moment they discover your product online to making a purchase.
Improving customer experience should be of utmost importance for you as a brand. It helps to improve the quality of your product while driving customer satisfaction.
But how do you get to know their perspective on social channels? By collecting customer feedback.
And when it comes to Instagram it's pretty easy.
Instagram allows users to express themselves towards a community and retrieve information about brands, so customers are more likely to engage with brands on the platform.
So, here are six ways on how to collect customer feedback on Instagram.
Let's explore.
1. Monitor Inbox Messages
Just imagine: 59% of American social network users believe social media customer service has made it easier to get questions answered and issues resolved. Thus, people want to use social media platforms to connect with brands.
But, your customers might be messaging you on Instagram for more information, complaints or appreciation. Sometimes, these messages get buried in your inbox and your customers do not get a reply in time.
Did you know about the secret inbox for message requests? When you do not follow a person who wants to send you a Direct Message (DM), the message goes to the hidden inbox. This is Instagram's way of filtering out spam messages.
As you try to promote your business, it's nearly impossible to follow every potential client on Instagram. Thus, you should keep an eye on the inbox.
And here's how to find your secret inbox.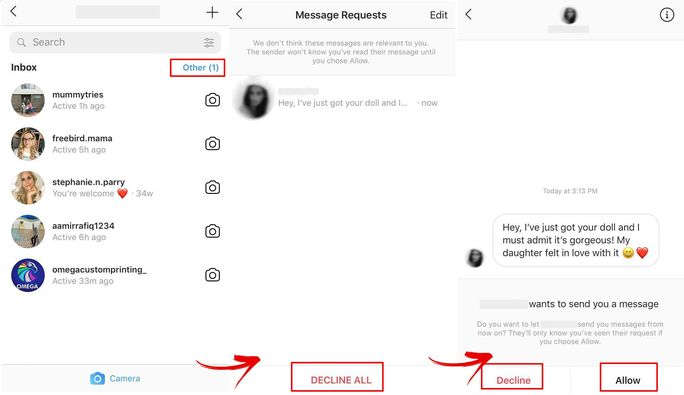 2. Create Polls
Ever heard of ephemeral content? It's the content which can be viewed for a short period of time, say 24 hours. This content uses people's fear of missing out '(FOMO) and compels them to keep checking their Instagram for such content (example: Instagram Stories).
For brands, it means another way to collect feedback. How?
Let's take a look at Sephora. Since the company offers a variety of beauty products, it's important to understand customers' needs and wants. Thus, the marketers decided to compare the most common product to see what's trending.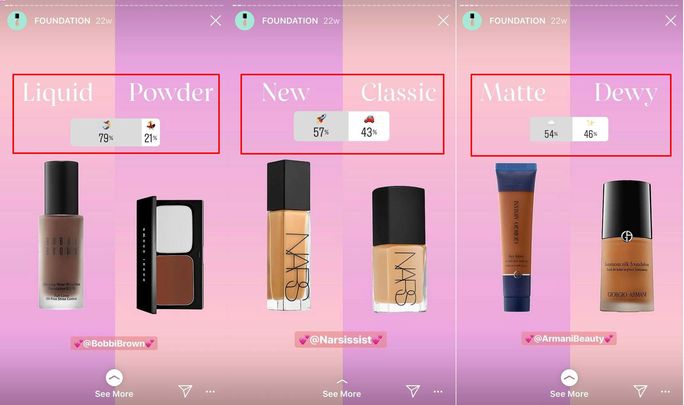 To create engaging polls, you must:
Choose the right background photo: Ensure that the poll has your product's photo. And if you want your followers to choose, show both options.
Customize the poll: Write your question and provide interesting choices.
Offer something unique: People like to be rewarded for their effort. So you can encourage people to participate by offering them discounts, surprises etc.
Let them Ask Questions in Stories
Another Instagram feature that helps to understand more about your customers' preferences is question stickers.
When Instagrammers view your story with a sticker, they can type their questions in the sticker. People have no limits on what to ask, so they can stay creative and ask various questions.
Have a look at this example.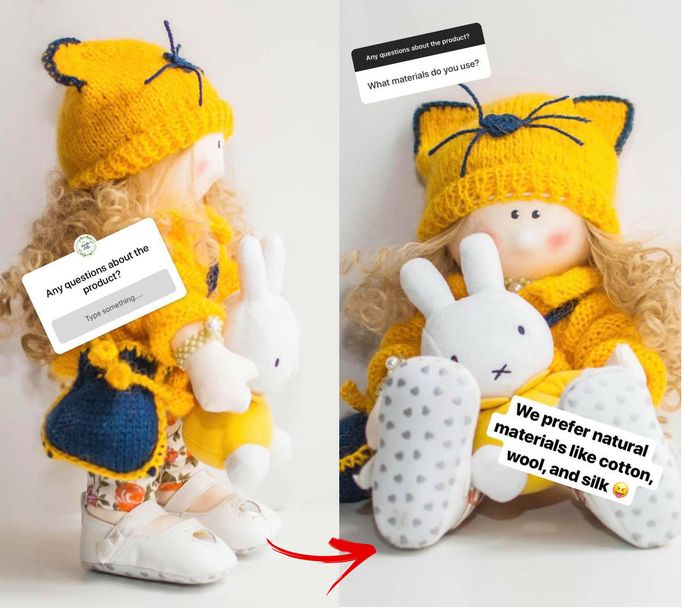 Once you add a question sticker, your followers can type their questions that appear in your inbox. If you decide to answer it, you need to create a separate Story with the photo / video and the answer.
Moreover, you can ask a question and invite your followers to write their replies. It is a great way to get feedback when you launch a new product or service.
Here's how to make the most of question stickers:
Remind your followers it is confidential: Your followers might be wary of asking questions. Thus, you need to ensure that they know you will be the only person to know who has contributed a particular question.
Always answer the questions: Even if you do not want to publicly show the question or answer, do not ignore it. Reply to them through DMs.
Be creative: Give your followers the freedom of choice. Whether they want to share their thoughts or ask questions, let them be heard.
4. Read Customers' Comments
There are several reasons for keeping an eye on the comments. They help you understand your followers better, establish relationships with them, draw inspiration, and get feedback.
But here comes the harsh truth: people are more likely to leave negative comments.
If you have ever paid attention to the comments section, you might have noticed users expressing their discontent about a product / service.
Even big brands have unsatisfied customers from time to time. And what do they do? They respond to them with solutions. Knowing how to handle negative comments is crucial in brand bullding.
Customers want to be heard by brands, and they expect brands to take care of them. The faster you solve their problems, the better.
5. Track Your Brand Mentions
In the digital age, customers are free to express their thoughts about brands. Thus, many users share their experiences with followers on Instagram by tagging a brand they're talking about. For a brand, it means a possibility to understand more about your reputation.
When you get a tag notification, please go through the user's post and understand the context in which he / she mentioned you.
Let's take a case study by MailChimp. Their avid user, Zacktatum, shared a photo of Freddie toys with a tag. The user was so happy to receive branded freebies that he could not help sharing his thoughts with his followers.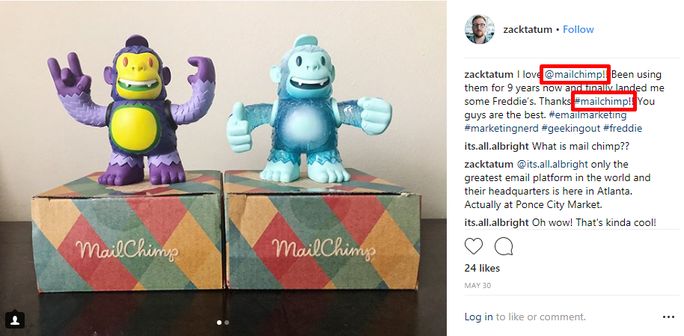 So, what did MailChimp learn here? Their followers love free stuff, and consequently, they're more likely to share a positive experience with their community.
When someone tags your company, you need to act fast and show that you take care of your brand: read the caption, comment on the photo, and learn something useful.
Spy on their Profiles
There's no secret that people love sharing their thoughts and opinions. But sometimes they prefer to express their ideas on their accounts. And if they do not tag your company, it's hard to find them until you visit their profiles to read more about your followers.
For example, many bookworms are obsessed with stuff by MyBookMark. Instagram book reviewers often take photos with their creative bookmarks.
As a result, their followers take notice and initiate conversations.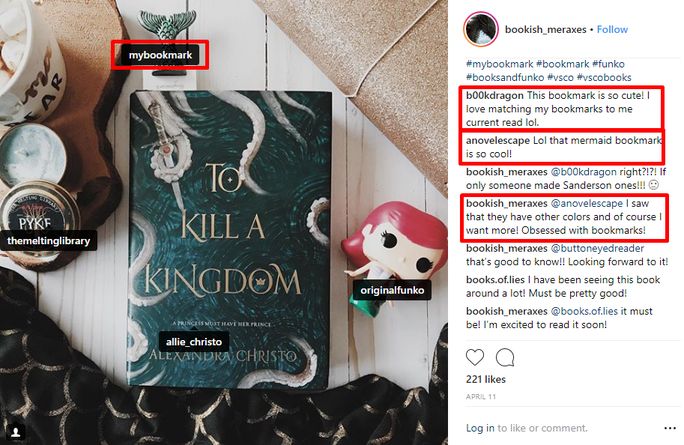 When you see your product, read the caption and comments to collect customer feedback. Given the fact you have not asked your customers to share their feedback, these comments would be the most genuine.
In a Nutshell
Instagram marketing is not just about showing off your product. It has become a powerful marketing tool that helps you drive leads, connect with your target audience, establish relationships with your customers, and understand more about your brand and products.
If you want to bring your company to the next level, listen to your Instagram followers as they are happy to share their feedback with you. Remember, regular posting is the first step to generate engagement.
Be consistent about your posting using an Instagram automation tool like SocialPilot. It not only helps you with scheduling your posts in advance but helps analyze their performance as well.
Try it for free today to know more.