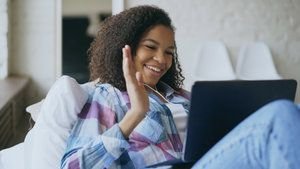 Informational interviews are a great job search networking tactic. You can gain useful industry and company insights. More crucially, you can build relationships that may lead to being referred to hiring managers.
How can you keep in touch and continue the relationship (without being perceived as a pest)?
Let's say you had an informational interview with Samantha, who does work similar to yours at a company you're interested in. She has offered you some advice.
Samantha is more likely to feel like her time was well spent – and more likely to want to offer additional advice or leads in the future – if you report back to her on how the advice was useful. That way she feels like she really made a difference.
Before you even leave the meeting, thank her and say "I'll let you know how this works out." About a week later, send her an email or card mentioning how you followed up on her advice and what the results have been. Having made a commitment to follow up, you will be perceived as following through on a commitment. No peskiness involved!
And where do you go from there?
Steve Dalton, the author of one of my favorite career books, The 2-Hour Job Search, answered this question in his Q&A forum on LinkedIn:
After you've updated your contact a couple of weeks with the status of any referral they gave you (or if they did not give you one), you switch the contact to a recurring monthly check-in. The first monthly check-in should consist of three items:
1) Recap that best piece of advice or insight they gave you
2) Give a specific example of how you benefited from that advice
3) Ask if they have additional advice
If they do not have further advice, you make future monthly check-ins more personal, inquiring about vacations & kids, etc., but always thanking them for their advice & asking for more. This reminds them you're still searching, and prompts them for action.
If you're still having a hard time asking for something, know that there's a phenomenon well known to social psychologists, called the Ben Franklin Effect – whereby politely asking someone for a small favor – and following up appropriately afterwards – can actually cause them to offer more help in future than if you had done a favor for them!
Make the most of your informational interviews by turning them into ongoing relationships. This will be far more fruitful – in your job search and even after – than a one-time coffee date that is quickly forgotten.
This post was originally published in May 2016, and has been updated.